Carlos Reines, the spaniard who wants to transform the US Healthcare System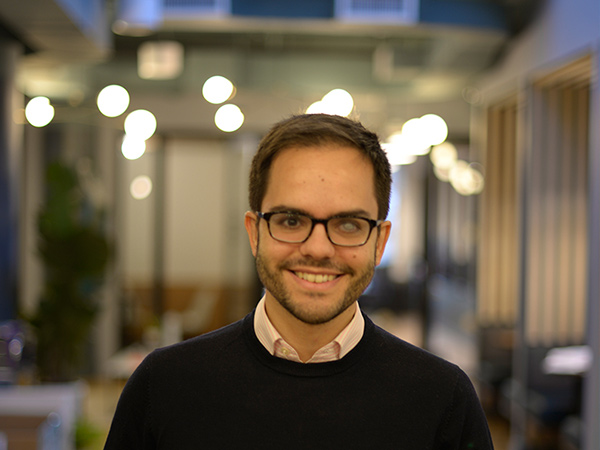 We traveled to New York to learn more about the latest innovations and trends in health technology in the United States. There, we met and interviewed Carlos Reines, a 32-year-old entrepreneur from Madrid, co-founder of a promising startup, RubiconMD, which is transforming the primary care in the United States.
Carlos has told us his story, his experience and what are his next challenges:
What problem is your startup trying to solve?
In the US, there are studies that show that up to 40% of the visits to medical specialists are unnecessary. In addition, there are a large number of people who do not have access to a specialist because they live in rural areas, don't have insurance, or have to face long waiting lists.
RubiconMD connects primary care clinics with the best specialists to make electronic physician-to-physician consultations that enable primary care professionals to make more informed decisions about the diagnosis and required treatment of their patients.
What differentiates RubiconMD from other similar projects?
Some hospitals and health networks have developed their own electronic consultation services, but they have generally assumed very high IT related costs, have faced delays and have achieved suboptimal metrics in terms of the quality of the consultation and the response speed.
RubiconMD is not only a multiplatform solution integrated within the physician's workflow , we have also developed a technology adoption program with a big focus on the implementation and training of physicians. We also have an operations team dedicated to monitor the platform constantly and ensure that all queries are answered quickly and correctly. Finally, during the last few years we have put together a very solid panel of specialists, with doctors from the best academic hospitals in the United States. All these factors have contributed to our outstanding consultation metrics (rated at 4.8 out of 5) and our short response rate.
Why did you decide to start your company in the US?
The opportunity came while I was pursuing an MBA at Harvard Business School. At the time, I was very interested in launching a technology project related to healthcare. I met my co-founder at an MIT health entrepreneurs event in 2013 and we decided to start RubiconMD.
Why did you base the company in NYC?
New York is a great city to launch a startup. It is true that the labor and office costs are very high, but the pool of talent available in NYC is incredible. After the financial crisis of 2008, many professionals with outstanding profiles moved from finance to other fields and this, together with the various initiatives to foster entrepreneurship implemented by Major Bloomberg, created a very attractive ecosystem for startups. For a health technology startup, NYC is a particularly great location, as there are many large hospitals, healthcare insurance companies and Healthcare IT investors within a 30 minute ride from your office.
What do you think is the main hurdle for health startups in the US?
I think the main challenge is the slow speed of this sector. Generally a startup needs to move fast and show results quickly with very limited resources. This in healthcare is very complex to achieve. Firstly because data privacy requirements and overall compliance and legal hurdles are high. This requires larger initial investments than in other sectors. Secondly, large customers have very long sales cycles. It can take up to two years to get a final 'yes' from a hospital or an insurance company … and this for a startup is almost a decade!
What do you consider to be your greatest success to date?
In terms of service, the most impressive thing has been knowing that we are helping to avoid serious complications and that we are even saving the lives of patients that before didn't have access to a specialists. I think there is nothing more satisfying than knowing that you are having such a positive impact on the health of people most in need.
In terms of enterprise milestones, we are launching the service with one of the best hospitals in California, that is also a leading hospital in electronic queries and have decided to migrate their internal platform to RubiconMD.
How many people are working in RubiconMD at this moment?
We are now a team of 23 people. About 20 of them are located in NYC and 3 collaborate from Spain. We started in 2016 with a team of 8 or 9 people. It's been spectacular to see how the team has grown in just one year! Fortunately we have been able to attract very talented people to the team, combining years of experience in their specific functions with a great capacity of execution, which is key in a startup.
What is your next milestone/challenge?
Our current challenge is to make electronic consultations a standard practice in healthcare. We have gone from working with small clinics, to working with hospitals and health insurance companies with thousands of doctors. It is critical that we can maintain the high quality of service while scaling and taking on such strong growth. Therefore, it is key that we can continue to attract and retain great talent to the company.
What differences have you noticed between entepreneurship in healthcare in the US and in Spain?
I have to say that I don't know much about the Spanish healthcare entepreneurship ecosystem, because I launched the company in the US and that is the only geography in which we operate today. However, some of the relative challenges may be the smaller size of the market and the existence of a public health system. In the United States the health cost of GDP is very high (more than double the OECD average) and is a very fragmented sector, which opens up many opportunities for entrepreneurs.
What differentiates Spanish entrepreneurs from others?
In the US I have met impressive Spanish entrepreneurs, who have had to overcome many additional barriers: language, cultural stereotypes, visas, etc. I believe that in Spain there is a lot of talent and that the economic crisis also contributed to the rise of the entrepreneurial ecosystem that is now giving great success cases. The only thing we lack is to believe that we can make it, to support our entrepreneurs more and to reduce the bureaucratic obstacles that still exist to start a business in Spain.
Do you think you'll ever go back to Spain?
Of course! My American adventure still has some years ahead, but the truth is…… there is no place like Spain!